Haverfordwest drivers beware! Well, sort of :-)
This is supposed to be a joke but it does depend on how you look at it. It is because on Monday, April 16th, I did my CBT - Compulsory Basic Training for driving a motorcycle and at the end of the training - about 4pm I was set loose on the streets of Haverfordwest.
I would like to apologize to everyone as I kept driving a little to slow or left you waiting because it took me longer than normal to clear a roundabout. This sensation is new to me as I passed my driving exam in 1991 in Portsmouth and have driven a car ever since. Having L plates stuck to my vehicle and being able to repeatedly stall the engine when trying to drive off a junction are completely new experiences to me. Believe me :-)
Will be getting some more lessons ASAP so unfortunately so you will have to endure with me qiute some more but hopefully you should see less and less cock-ups on my part :-)
Take care now :-)
Update April 24th, 2012
Passed my motorcycle theory test in Haverfordwest :-) On to the practical ones :-)
Update May 9th, 2012
Have been having quite a few lessons in Haverfordwest and Swansea as I seem to suck a little at riding a motorcycle but I can see some signs of improvement lately so there is still hope yet.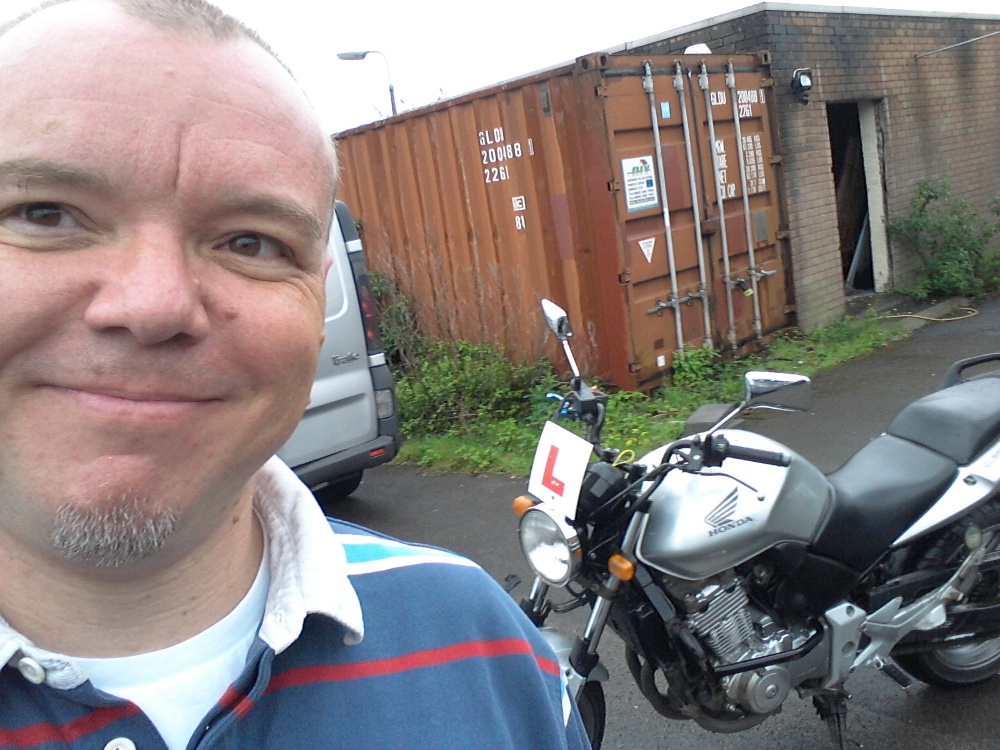 Update June 21st, 2012
Successfully completed the first part of the practical exam called Module 1 :-) Did it on the same make and model of the Honda bike seen behind me on the photo above. I did the exam in the Swansea test centre which is just over an hours drive from Haverfordwest and still the closest test centre to me. Now I have start to get ready for Module 2 which is the bit of the practical exam you do on the 'real' roads. Module 1 is just in an enclosed circuit but its very technical.
Update September, 2012
Successfully completed module 2 so now I have the full licence.