Day 3 of 29 - Hitting the road
Last night had a few loose nerves to which those close to me can attest. Got a little worried the Heritage wont be able to take all the luggage I had for it. Turns out it was fine and this photo confirms that.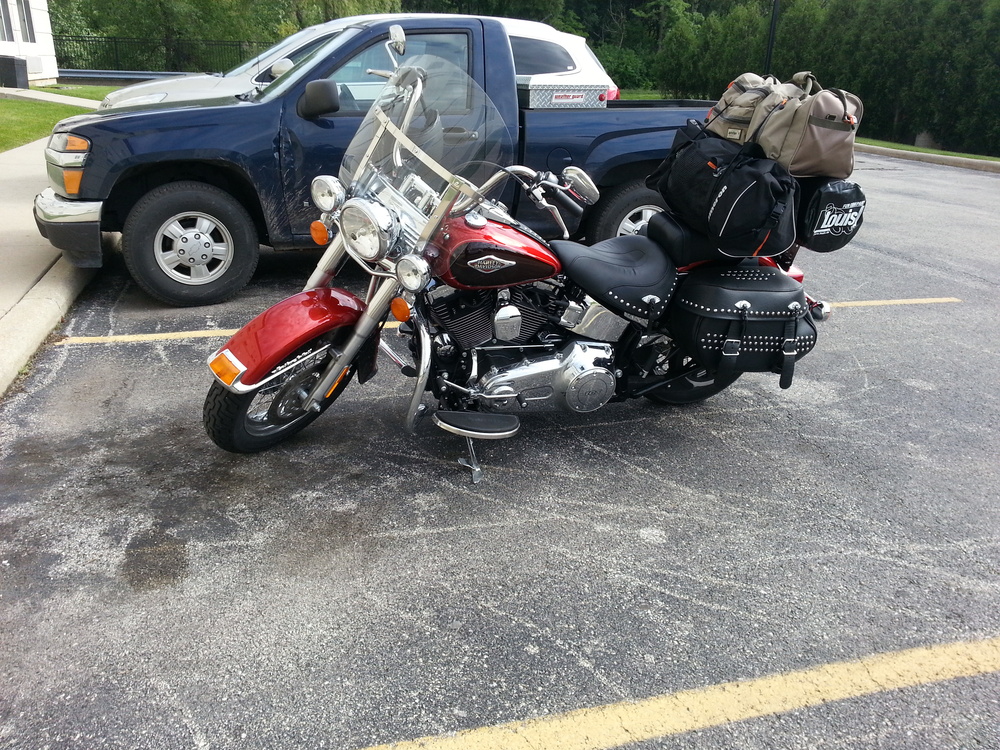 About an hour or so into my driving noticed that part of the luggage was listing to the right. Turns out the rollbag was not rigid enough and it sits on a very narrow carrier. After fastening it differently it seemed to be OK. But in all the worries about what was going on with the bags behind me I apparently forgot to raise my kick-stand on one of the luggage-check-stops. Not good.
Saw quite a bit of rural Illinois countryside. Avoided the toll roads and stuck to the lovely country roads. :-D
Stopped for lunch in this privately owned diner near Sauk city, IL. Had what the lady called a "poor man's" lobster which is fish and chips to you and me … if by you I mean someone who lives in the UK.
I noticed while driving on their motorway 94/90 that I was THE only one driving at the speed limit which is 65. I even got overtaken by just about every truck. I thought those things were blocked from going over 50 or 60. Well … apparently not here.
As I was driving towards Minneapolis I noticed a KOA campsite so I turned in there for the night. No use me risking trying to find a different place further north. It is my first night tenting and with a new tent as well. Either I am dumb as a brick or is the Zephyr tent just a tad difficult to put up. Maybe I am just dumb. Anyhow… the pegs that come with it are almost useless. Any extra pressure on the …. like trying to push them down with your foot will bend them in very creative and artistic shapes. Not something I want to be doing tired after a long day's drive. Nice place but to very noisy as its right next to the motorway and, as I found out during the night, a busy railway.