An old favourite. Have been up it only twice before as far as I can remember. The last time it was a scorching hot summers day and this is also when I learned about dogs and how peculiar they can be be.
I took our family dog with me and to make sure we were both hydrated I took a bottle of water for her and a bottle of flavoured water for me. I think mine had a hint of grapefruit in it, all natural, zero calories, sterile and all that. Any way, turns out the dog, her name is Neža, felt quite thirsty. It was very warm on that day and the side of the hill you have to climb is south facing so had the full force of the sun. I think I ran out of the dog's water water even before we reached the top and of course I offered her some of my lovely flavoured water. The mountain dew, filtered a gazillion times though lime rock or so I remember. Anyway, she declined it. Completely. Even when I saw she was really thirsty she would not touch the stuff. Made me think how good WAS this water. I mean, she has been known to eat dead animals and dog poo but she would not have the purest water available to man or beats far around - of course, with a hint of grapefruit - which is probably why she declined it.
Anyway, we did manage to find some suitably dirty muddy puddles at the the bottom of the hill that satisfied her need for food indiscretion.
Today she didn't come with me. Bless her she is getting on a bit and a hike up this mountain could just about finish her off. The day was almost as bad as the last time - at first. Very warm but with some clouds at the top which did not worry me. There was a forecast for some showers but not until later that day. I pressed on, of course.
I reached about half way up the incline and started to see some dark clouds but they quickly passed over and we were back to sunshine so happy days. On I wen, but not for long. The next cloud looked much more ominous. And then it started to thunder which got be shit worried. You don't want to be up a mountain, especially on exposed parts when lightning could strike any minute. I waited. Then as it looked like nothing more was going to happened I carried on until it started to rain. And then with more thunder. It seems the thunder was much closer than before so I hid next to a large rock formation and tried to wait it out. Good idea as the rain got worse and then it changed to hale. Then back to rain and then it eased off. I had to make a decision whether to press on or turn around. I knew I was sort of close to the summit but not exactly sure where. I almost stubbornly decided to carry on but knowing the risk I was really shittting myself. And guess what, I actually met some people coming the other way, a german couple as it turns out. They took shelter from the lightning just under the peak but I was very surprised to see anyone still above the level I was at.
As my suspicions were correct the top of Viševnik was not far away, only about 10 min hike from where I was taking shelter earlier. And just as I got there the rain eased off ad there was a gorgeous view of the surrounding peaks, I took out my phone and took this photo.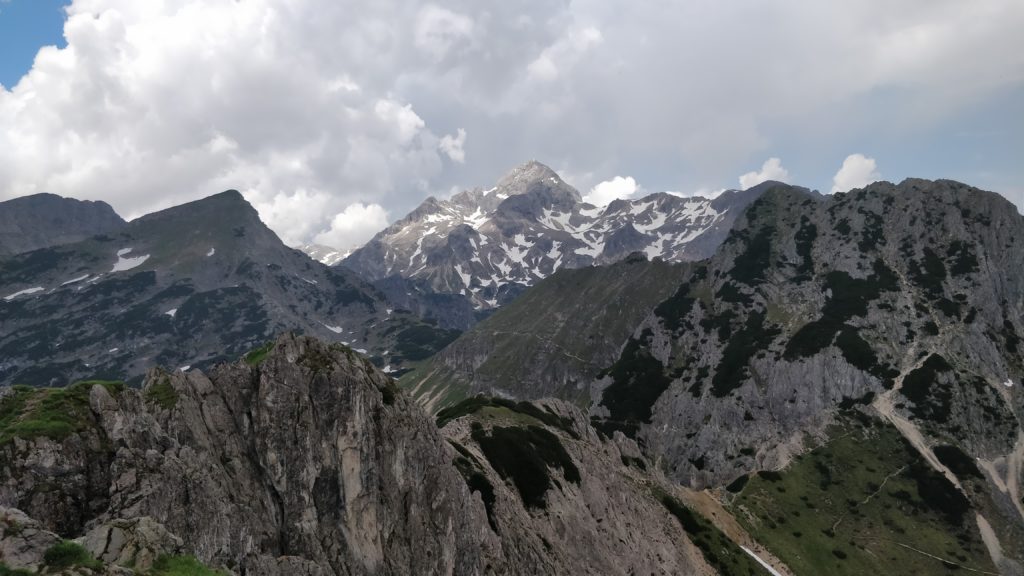 I think I must have been on the top of Viševnik for about 30 seconds before the heavens opened up again, this time it went straight to hale. - I must have ran down that hill as I not only caught up with the two Germans, I overtook them and to my surprise saw another group of three german-speaking hikers going up!!?? WTF!
Came down to Rudno Polje where I had parked my car completely drenched but felt great. A day up a mountain is almost always a winner.