Bit the bullet and ordered my first Uber ride in November 2014 when I was in London. It went very well but it was for a very short trip.
The second one was in April 2015 and it was from stansted airport to a nearby b&b about 15 minutes away. I loved the fact that you know beforehand who will be picking you up, what the reg number of the car is and where the car is on a map. The driver then called me to pinpoint the pick-up location. So far so good.
Then it all went a bit pear-shape. The driver obviously wasn't local but that shouldn't have been a problem as all they have to do is follow their sat-nav on their phone. The driver was supposed to get off the A120 but failed to notice this and continued the journey eastwards towards Braintree. The problem is that there were no exits for quite a while so we actually ended up near Braintree. As the driver was trying to manoeuvre the roundabouts to get back on the westbound A120 he missed yet another exit but this blunder was easier to correct.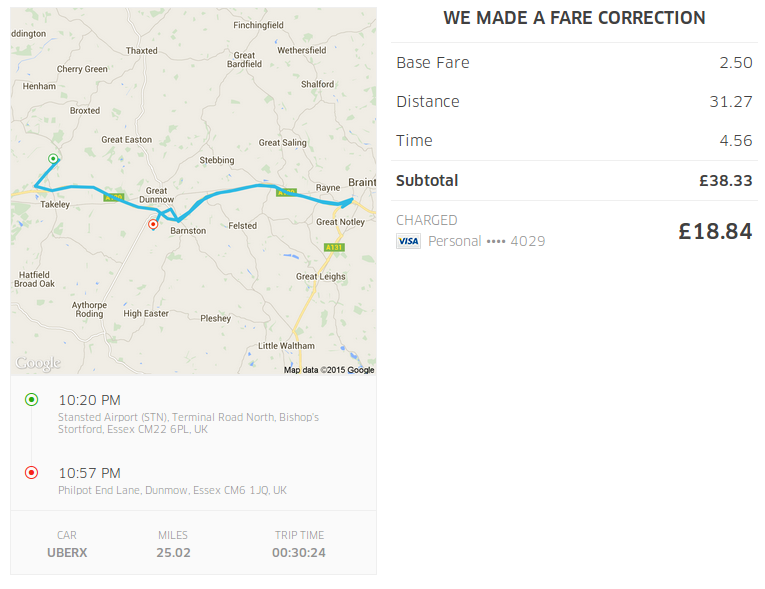 Finally ended up at the b&b after a MUCH longer journey. I was already thinking how many stars I will be giving the driver. However then I felt sorry for him and he did say that he will sort it out that I only pay the fee as if the journey was correct. However when I later checked I was charged for the sightseeing version of the trip. Very few stars ended up being given.
The reply I received from Uber support was comforting and I received the refund before I woke up the following morning.
I took a look into the trip and it does seem like your driver took a less than ideal route. I've adjusted the fare down to better reflect the typical cost of this trip if a more efficient route was taken. This should reflect on your account within a few business days.

I've also shared this with our driver operations team so they can follow up with Caner about his city knowledge and remind him of the standards that riders expect from Uber partners. We only want the best for our riders and that includes a driver with a good grasp of the city so you can be assured that this will be addressed as soon as possible.
Not sure, I might still give them a go next time. I guess its just down to poor driver training.